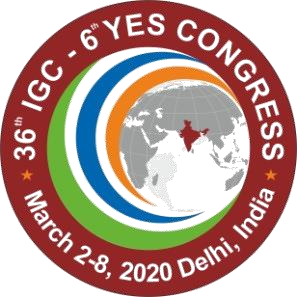 6th Young Earth Scientists Theme: Breaking Boundaries -Unifying Geosciences
The 6th Young Earth Scientists (YES) Network Congress is being organized by Indian Chapter of YES Network YES under the umbrella of 36th International Geological Congress (IGC) at New Delhi, India from 2-8 March 2020. YES Network is an international organisation of early career Earth Scientists from different geosciences organizations across the world who are primarily under the age of 35 years. 6th YES congress provides an excellent opportunity to young researchers and academicians to interact and share their research experiences with fellow researchers from YES and experts from 36th IGC.
YES congress covers
18 Scientific Sessions
3 Invited lectures
5 Workshops
2 Field Visits
Round table meetings
Networking café for job opportunities
The details are given further here. Kindly contact the below mentioned persons for further queries
Mr. Meng Wang, President YES Network and Chairman International
Organising Committee (yeswangmeng@gmail.com)
Dr. Tanvi Arora, Secretary General, YES Network, (networkyes.secretary@gmail.com)
Dr. Shib S. Ganguly, Vice President YES Network (ganguli.ism@gmail.com)
Dr. L. Surinaidu, National Representative-India and Chairman Local Organising
Secretary of 6th YES Congress (suryangri@gmail.com)
Dr. Sunil Rohil, Secretary, Indian Chapter of YES (sunil.rohil@gmail.com)
Pls contact Dr. Surinaidu for presentation related queries and Dr. Shib for accommodation related information.
Details of YES Technical Sessions:
Date

Technical Sessions - Time

9:00-10:30

11:00-12:00

12:00-13:00

15:00-16:30

16:30-18:00

Mar. 05

45.6.1

Shear Zones and Crustal Deformations (SZCD)

45.6.2 Water: Sustainability for Life (WS)

45.6.3 Integrated Geoscience (IG)

45.6.4. Crunch in Computational Geoscience(CCG)

45.6.5 Geoscientific Challenges and Advances in Natural Resource Exploration

Mar.06

45.6.6 Tectonics, Surface Processes and Climate

45.6.7.Hydrogeophysical studies for Vadose Zone characterization

45.6.8 Non-invasive Geophysical Methods and Numerical Modelling for Groundwater Resources Exploitation and Management

45.6.9.Multiproxy approach in Palao Monsoon Reconstruction During Quaternary Period

45.6.10 Quaternary Landform Evolution in a Mountainous Landscape

45.6.12 Advances in Earth and Planetary Sciences

Mar.07

45.6.13 Geochemical Signatures of Paleo Monsoon Variability

45.6.14 Understanding the Earth Structure and Mantle dynamics through Geophysical Observations

45.6.15. Geodynamic Significance and potential of the Precambrian Ultramafic Complex

45.6.16 Biogeochemical Cycling of Carbon and Nitrogen in Terrestrial and Coastal Environments

45.6.17 Ichnology in shallow marine and transitional environments
Request may be sent to Dr. Surinaidu, NR for online presentation through skype during these sessions.
Accordingly, necessary arrangements can be made.
YES Workshops:
| | | | | | |
| --- | --- | --- | --- | --- | --- |
| | 03/03/2020 | 03/04/2020 | 03/05/2020 | 03/06/2020 | 03/07/2020 |
| TIME | WP I | WP I | WP I | WP II | WP III |
| 19:00 - 20:30 | Workshop on Integrated Groundwater-Surface Water Modeling (Part I) | Workshop on Integrated Groundwater-Surface Water Modeling (Part II) | Workshop on Integrated Groundwater-Surface Water Modeling (Part III) | Workshop on Urban Geology | Workshop on Geophysical Methods for Groundwater Exploration |
Apart from the above 3 workshops, 2 more workshops are arranged in the main IGC theme on "Women in Geoscience (WSC05)" and "Association of Polar Early Career Scientists (APECS) and Young Earth Science Network (YES) joint workshop for early career researcher (WSC28)"
YES – Round table meetings:
| | | | | | |
| --- | --- | --- | --- | --- | --- |
| Time | 03/03/2020 | 03/04/2020 | 03/05/2020 | 03/06/2020 | 03/07/2020 |
| 19:00-20:00 | YES EC Meeting (Closed) | YES NR Meeting (Closed) | YES Bid and Presentations | YES AGU Workshop | Dinner |
YES – Networking Cafe:
YES Network members will be asked to drop their CV by the Networking lounge
Shortlisted candidates will be interviewed by invited companies and university representatives for Research opportunities
YES – Field trip: Block your seat !!
A field trip is organised in Rajasthan by Advent Oilfield Services for 10 members on First come first serve basis.
An excursion is arranged by AMITY International University, Delhi for 25 members on first come first serve basis.